University
Promises and Pitfalls of Online Education
Online education has proved its effectiveness in terms of improving the educational quality and learning experiences. It has well served the student community during the pandemic. And to date, it continues to provide the best quality content that suits the learning needs of students.
From the best-in-class instructional delivery to the superb monitoring mechanisms, this choice is a perfect alternative in modern times. And the global growth of the online education sector marks the beginning of a new era of skill-based accessible learning.
Here's an overview of the promises and pitfalls of online education:
Advantages/promises at a glance
1. Job Readiness
According to reports, the global pandemic has accelerated the need for new opportunities with new skills. As a result, some leading online education platforms saw a spike in the number of enrollments peaking at 189 million (with a growth rate of 32% by the year 2021). Similarly, a new trend of digital schooling also emerged as a mainstream choice for many students, thereby creating new possibilities for online learners.
Remote learning is globally accepted to sharpen the skills for the future. This means that online education is a new ray of hope for many professionals and learners to thrive in the competitive post-pandemic world. For workforce preparation, acquiring skills, upskilling, and reskilling of employees, this medium creates great opportunities through an array of futuristic programs.
2. Online environment offers flexibility
Over and above the unprecedented learning opportunities, online education also offers a flexible learning environment for all types of students. Irrespective of the location, time, lifestyle, and financial conditions, students can now pursue virtual programs/courses from the comfort of their homes. This extends the opportunity of learning for students who are incapable of attending regular in-person classes due to any barriers. They can now fully participate in virtual classes and earn fully legitimate diplomas/degrees without much hassle. Online learning formats offer learning opportunities 24/7/ 365. And that too without any need to attend physical classes on campus. This improves the educational opportunities for students with learning/physical disabilities. As they can stay within the mainstream system without the threats (like bullying) and inconvenience.
3. Better quality interactions
While most traditional platforms struggle to establish strong connections between the teachers and the taught, online education is perfect to resolve this challenge. In an online learning environment, students can make the most of high-quality meaningful interactions with their teachers and peers. Virtual classes are productive in terms of instructional delivery. As students get enough time to prepare and jot down their doubts. Other than this, virtual classes are also known for broadening the perspectives of students. They can analyze the inputs shared by their peers, and develop divergent thinking over a period of time. Online discussions are enlightening and engaging at the same time. And avid students can participate freely in these discussions and make the most of cross-cultural platforms. This learning is relevant to all students at all times, as it collates the responses of various learners. Besides, it also makes dialogues more interesting. And supports the development of high-order thinking skills in students.
4. Good resources at reduced costs
In the absence of a physical campus, online education saves a lot of costs that goes into the construction and maintenance of a traditional educational structure. This brings down the cost of education to the minimum. And the students end up paying less amount in comparison with the same level of education in a traditional institution. In the present times, 5.1% of students dropped out of the mainstream system in the U.S.A (in the year 2019). For a very long time, financial constraints and the need to support one's family income were the main reasons behind dropping out of high school.
Online resources offer respite to many students with a cost-effective option to continue education. By enrolling in an accredited online school, students can work and study at the same time. The cost of high-quality education is beyond the budgets of several families. But by saving on transportation, books, and supplies, many students find online education more affordable than any traditional learning platform. Hence, these new learning technologies have a positive impact on the academic journey of students.
While there are notable advantages of online education, it is not free from pitfalls. Let's scrutinize these now: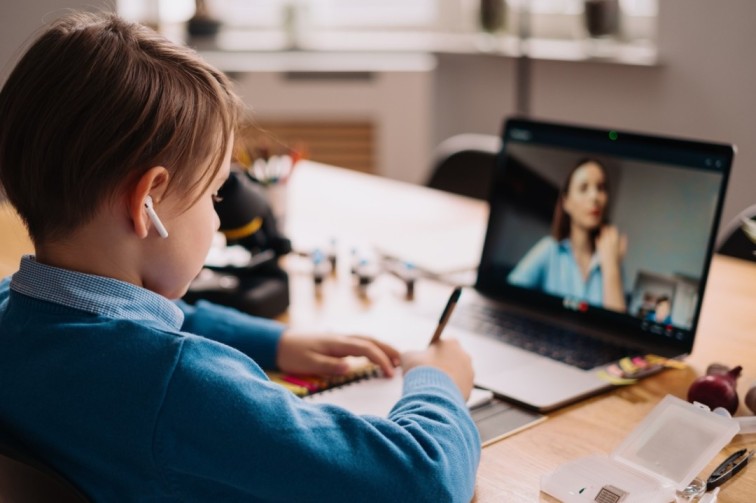 1. Dependence on technology
Despite the benefits of online education, it is restricted to a limited section of students. Many students from economically disadvantaged backgrounds and marginalized sections of society are excluded from the online learning environment. They fail to avail the benefits due to the lack of internet connectivity in their respective areas. And many others face challenges due to network fluctuations etc. Similarly, the lack of digital literacy also deprives many students of making the most of online education, thereby limiting its advantages to a certain section of the student community.
2. Self-Motivation
Be it an accredited online schooling or any online education platform, a student needs to be disciplined and self-motivated to perform well. This makes online learning more demanding for many students. And they do not succeed to pull it off completely because of their habits of procrastination. Many online students find it difficult to manage their time and energy as per the course/program requirements. As a result, they struggle during the asynchronous learning duration.
Other aspects
Other challenges like the shortage of trained online educators or a valid accreditation also limit the advantages of an online program. An online program can suffice its real purpose only if it is equipped with the best online pedagogies and holds a prestigious accreditation. All this affects the students immensely. And determines their prospects after earning an online credential.
Final Thoughts
Today, the world of digital learning has expanded numerous possibilities for global students. They can take full advantage of technology in education and secure their place in the competitive job market. This student-centric solution resolves number of issues faced during the teaching and learning processes. And truly, its promises outshine the pitfalls to a great extent!