University
Top 10 Best Online High Schools
The world is developing and with it, all its dimensions. What was impossible years ago is a part of our daily routine. With the internet becoming the real wife of life, it has incorporated new boons into our patter. Today, we live in a digital world where things are getting done at our fingertips, or even just by voice command. Digitalization is making its way in every field and industry. According to two professors of the North Carolina School of Media and Journalism, J. Scott Brennen and Daniel Kreiss, digitalization is referred to as the process in which multiple domains of social life are restructured around digital communication and media infrastructures. It is thus, indubitably true to say that digitalization has improved our lives and made our daily tasks easier.
The best online high schools or digital schools come with flexibility and ease. One can learn at his/her own pace, time and convenience and thus, eliminating all the geographical barriers present in any conventional school. Along with all the resources always in our pockets, the virtual space of communication and networking in an online school is extremely useful and empowering since they not only remove certain barriers of location and time, they also help to manage our time wisely.
Researchers have claimed that the most common digital learning materials used weekly in PreK-12 classrooms were educational apps, videos, tutorials and various research websites. As more students are moving towards an online mode of studying, there is a shift that can be seen from the conventional mode of learning to a new, advanced and digital form of learning.
For the best online high schools, here is a list that entails top 10 online schools that are accredited by globally accepted and appreciated accrediting bodies which provide quality education and globally recognized high school qualifications to their students:

Florida Virtual School (FLVS)
FLVS is an online school dedicated to personalized learning. Whether you live in Florida or beyond, you can access more than 180 courses from Algebra to AP Art History and everything in between. Public, private and home school students from kindergarten through 12th grade use these courses to succeed on their own time and schedules. It is accredited by Cognia (NCA CASI, SACS CASI & NWAC). Various programs offered by FLVS are as followed:
FLVS Flex – It offers freedom in the form of online kindergarten-12th grade subjects with courses tailored to the specific needs of the students. The child can study when and where he/she wants – at home or while travelling over the summer break.
FLVS Full time – This program allows the student to get enrolled in a full-time schooling option which includes the elementary, middle and high school grades.180 hours for each course in a school calendar year is required to earn the respective credits.
County Virtual Schools – Apart from being an online school enrolling the students directly, FLVS functions in a franchise model. It authorises schools within the district of Florida to provide the FLVS driven programs and courses to all those students who are unable to get enrolled in the regular schools due to any reason.
Fees – The fees for accessing the FLVS Global school is roughly $800 for a full credit course at an additional cost of $25 per course for the Advanced Placement program. Being a public school, the services are free within the state.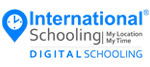 It is the first online school outside the U.S territory, accredited by Cognia. It is headquartered in Singapore and emerged as a flexible learning and home-schooling option for students across the world. The following programs are running currently:
Elementary School Program – Students from grades PreK-5 get enrolled in this program. The minimum age required to enroll in the Prek year is 4 years. The instruction material is knowledge-rich to help in the development of gross motor skills, fine motor skills and cognitive skills in their formative years.

Middle School Program

– Students from grades 6-8 get enrolled in this program. The minimum age required to enroll in this program is 11 years. This program emphasises on learning the basics along with helping in enhancing the study skills.

High-School Program

– Students from grades 9-12 are enrolled in this program. The minimum age requirement for this program is 13 years. International Schooling offers various college-level preparatory courses (Electives and Advanced Placement courses) helping students to solidify their foundation for learning to get into the best colleges and universities around the world giving a jump start to their career.
Education for slow learners – The digital content is enriched with high-quality audio-visual mediums which improve the quality of understanding. As a result, it supports learners who need time to understand and learn the topics.
Fees – International Schooling facilitates a cost-effective way of completing one's education which makes enrolling at International Schooling quite affordable. The fees for enrolling into a middle school program is approximately $250 for a full credit course and for the high school course is about $400.
International Connections Academy (iNaCA)
It was founded in 2001 with its headquarters in Maryland. It serves students from k-12. Students can get enrolled for full-time schooling or individual courses from anywhere globally. iNaCA provides a learner-centric approach to guiding by involving parents as the learning coaches. iNaCA is accredited by Cognia.
Following are the programs offered by International Connections academy:
Lower School – Students in grades K-5 can get enrolled in this program and are introduced to basic skills via a specialized curriculum.
Middle School – Students in the Middle school (grades 6-8) have a wide range of elective courses to choose from along with an option to get enrolled in virtual clubs and activities.
Upper School – For grades 9-12, which prepares them for college-level preparation through their effective curriculum.
College prep – It also supports students in preparing for SAT and ACT examinations to apply to universities for higher education.
Individual Courses – Students who are looking for advanced STEM or world language courses which are unavailable in their locality can get enrolled.
Fees – The fee for enrolling a student in any of the grades ranges between $4500-$6500 for a full academic year.
It is a registered private school under the Florida Department of Education and is accredited by the Southern Association of Colleges & Schools Council on Accreditation and School Improvement (SACS CASI). It provides different learning solutions to students to earn an accredited high school diploma. Programs offered are:
Elementary School – For grades K-5. The courses have been structured to develop social skills and the basis of primary education.
Middle School – For grades 6-8. Students are introduced to an entirely new way of learning for their cognitive growth and excellence.
High School – For grades 9-12. The program includes core curriculum, elective courses and advanced placement courses to make students college and career ready.
Fees – The annual fees for each of the grade ranges from about $2000 -$3000.
It was founded in 1998 with its headquarters in Mississippi and got its accreditation from Cognia in 2005. It currently caters to grades 4-12 students. Its curriculum lays emphasis on spiritual learning. Following are the programs offered by the North Star Academy:
Elementary school – students in grades 4 to 6 get enrolled in this program. It aims at building the early skills required for young children.
Middle school – For grades 7-8. The courses of this program are built to expand their existing knowledge and enhance their learning skills.

High School and Electives

– Students in grades 9-12 get enrolled in this program. It helps to boost their career with their specialized curriculum and electives essential for college preparation.
Fees – The cost for enrolment into a full-year credit course is around $700.
James Madison High School
Ashworth College, the parent-school of James Madison, was founded in 1987. James Madison High School (JMHS) was established in 1996 to fulfil the need for a comprehensive, quality high school for distance learners. It is regionally accredited by the Southern Association of Colleges and Schools Council on Accreditation and School Improvement (SACS CASI), an accreditation division of Cognia. JMHS is also accredited by the Accrediting Commission of the Distance Education Accrediting Commission (DEAC).
Students must be at least 14 years of age and have graduated from the 8th grade. To be eligible for the College Preparatory program track, a student's incoming GPA must be a minimum of 2.00 on a 4.00 point scale or a Coverall grade.
Fees –The monthly fees are $49 per month. Full pay option is at a discounted price for $1299.
The school was founded in 1974. The programs offer quality learning in a conventional environment for students in Kindergarten through 12th grade. It is accredited by Cognia and Middle States Association of Colleges and Schools' Commissions on Elementary and Secondary Schools. The programs offered are as followed:
Elementary school – For students in grades K-5. The courses have been structured to develop basic social skills and intermediate knowledge for the children.
Middle School – This program is fabricated for grades 6-8. Students get their hands-on various aspects of higher education.

High School

– This is the program for students in classes 9-12. It includes core subjects, electives and six world languages to prepare the students for a better tomorrow.
Fees – The annual fees for the course is $155.
It is an accredited private online school for K-12 students and offers academic programs that meet each child's individual educational needs. The school is accredited by Western Association of Schools and Colleges (WASC) and Cognia. Programs offered are:
Lower School – The program is designed in such a way that it encourages exploration, emotional growth, physical development and fun.
Middle School – Designed in a way to nurture a natural love for learning, while laying the groundwork for Upper School success.
Upper School – Offers exceptional course and curriculum options designed to challenge students to discover, explore and grow.
Fees – $1,540.00 is the annual tuition.
Whitmore School is an accredited online high school powered by the educational company CompuHigh and is fully accredited by Cognia. It offers several full diploma programs for students all over the world who need an alternative to a traditional brick and mortar school along with individual courses for students who need to earn credits to transfer to their regular school. Programs offered are:
Diploma programs – It includes various diploma programs like Diploma PLUS, Diploma PLUS with Math Tutoring Program and Adult education diploma program.
Individual courses – Students wanting to accelerate their education and get extra credit to graduate opt for these courses. Individual PLUS courses provide additional weekly progress reports.
Fees – $385 per course. $1,394 – 1,499 per 12 months.
It is an accredited, 100% online education for students. This online high school aims to build a customized curriculum, working with each student individually to achieve their goals. The programs are as followed:
Elementary school – Lays down the building blocks of the early education of the child.

Middle school

– Empowers student to pursue his/her personal interests with full potential.

High school

– Prepares your child for the future. The diplomas are accepted by colleges and universities throughout the US and several countries.
Fees –The annual tuition fees are $1316.00. With the online high schools setting their feet in our world and providing us a new alternative for educating our children, an evident shift can be witnessed from the traditional classroom setup of a student-teacher interaction surrounded with textbooks to a virtual world full of digital books and resources.