University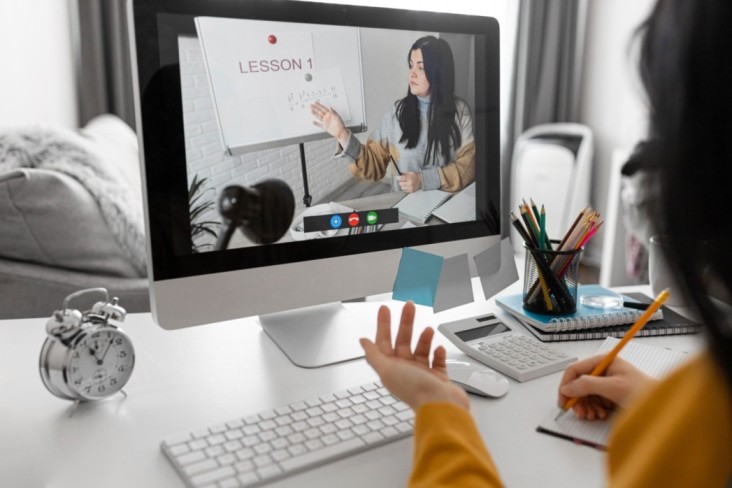 ​Benefits of Online Learning
Online learning is opening a world of knowledge to help students and professionals prosper in their academic life and the workforce. This booming trend has altered the ways of teaching and learning. And online institutions are offering the best of both worlds to students across all age groups. With this new normal, students get the handholding of expert teachers for doubt clearing and content acquisition. And at the same time, they can do away with the barriers to traditional learning such as virus spikes, threats like school violence, and the prerequisites for traditional education.
Let's touch upon the exciting benefits of online learning. And see how this choice can promote learning for students and working professionals.
1.Practical and Sustainable
Virtual learning has proved its power through the rough times of the global health crisis. In addition, it has also proved to be a resolution for several challenges like accessibility, costs, learning or physical disabilities, etc. within the traditional education system. This medium covers a wide range of students without any geographical barriers. And it also brings the best educational content within the reach of students without adding much financial burden on them. At the school level, this format helps students by allowing home-based learning. This reduces the burden of everyday travel. And save precious time, money, and energy.
Other than these much-discussed advantages, virtual learning also boosts productivity. And this is not all, this format also allows students to pursue other interests with ample free time after studies.
For professionals, online learning/online classes is a perfect solution to upskill themselves as per the demands of the workforce (to develop the job skills of tomorrow). They can earn credentials with their ongoing jobs and still manage to strike the right work-life balance.
2. Improves Performance
Online schooling improves student's performance by helping them to learn more in less time. This format not just promotes the understanding of concepts. But also helps in increasing concentration levels and overall engagement. Students can decide their own pace and choose a style of learning that goes well with their personalities. All this is now possible without the hustle-bustle of crowded classrooms.
Let's take you through some supporting facts that prove virtual learning better than the traditional format:
The U.S. Ministry of Education states that online education accelerates the rate of learning, reduces costs, and helps teachers to use their time effectively.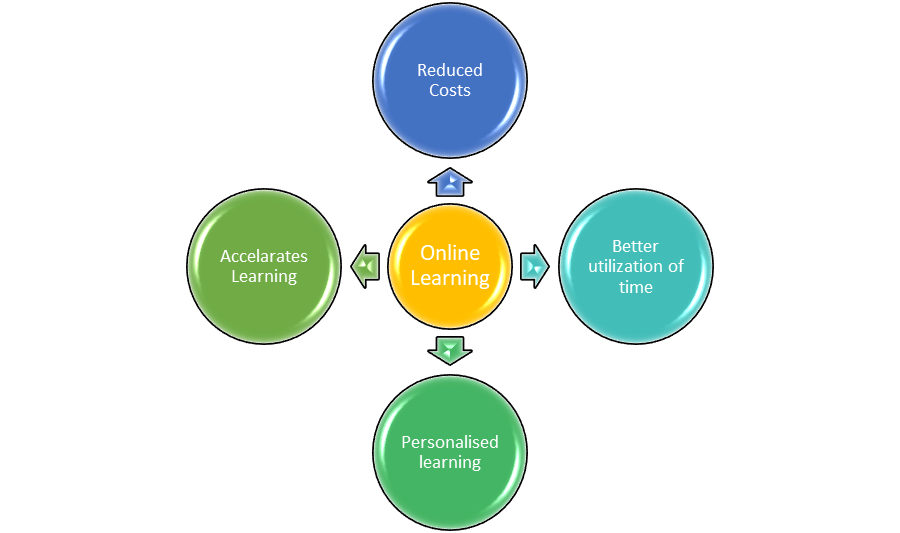 Another meta-analysis shows that students who opted for online learning performed better than their peers from the traditional learning format. In fact, this analysis concluded that online learning components are a better choice for both students and professionals.  
Similar evidence proves that same point with numeric values. The performance of students in the online medium was estimated to reach the 59th rank. While the traditional students managed to reach the 50th rank (in percentile).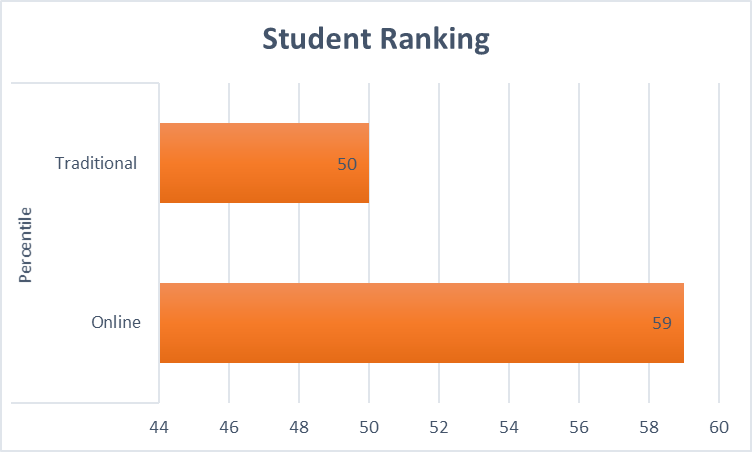 3. Boosts Soft, Transferable, and Digital Skills
This skill-driven world demands advanced qualities that can help an individual to succeed in their personal and professional life. With online learning, both students and professionals get opportunities to acquire or hone skills that are highly relevant in the present times as well as in the years to come. The global workforce demands candidates who are disciplined, creative, and intrinsically motivated. Virtual learning helps students to develop these qualities. And professionals too can brush up their skills to keep up their jobs and aim at higher positions.
This format focuses on skill-based learning And at the same time, it also extends an impeccable opportunity to sharpen digital skillsets as an added advantage. Post the pandemic, accredited online schools and online colleges are known to nurture skills that translate perfectly to any career or stage in life. Transferable soft skills like time management, independent working habits, online communication, and adaptability are already a need of the hour. And digital learning serves the purpose aptly by instilling these qualities in students as well as in professionals.
4. All-Encompassing Approach
As per a survey (details shared by Weforum), people with disabilities do not participate fully in schoolwork, or household activities. 66% of the survey respondents validated this fact.
For many individuals with unique needs and personalities, virtual learning proves to be a savior. This medium is less intimidating for students. And ideal for introverts, academically backward, at risk, and the differently abled ones.
Even for professionals, this format allows a self-created pattern to carry on with studies. This makes the entire process more seamless and manageable despite any life conditions or hectic working schedules.
The standout feature of virtual education is that it can deliver similar educational outcomes as a traditional medium.
A survey shows that 89% of the respondents found this medium as good as face-to- face instruction.
5. Global Acceptance
A legitimate program is widely accepted as it meets the required quality standards. An online program is 100% legitimate if it is through a legitimate platform. The credentials earned through accredited online schools/colleges are as good as the ones from a traditional institution. And other aspects/rules/policies related to different types of accreditation (programmatic, institutional, and specialized) are the same for online and traditional platforms.
For busy professionals, students, and non-traditional students online learning is the ideal pick to earn globally acceptable and 100% usable credentials.
What lies ahead for Online Learning ?
The advantages of online learning prove beneficial for students and professionals across all stages of life. And this medium is already accepted by the leading education systems of the world. In the USA, digital education is embraced by policymakers/institutions and even non-profit organizations such as the 'College Board'. This new normal is now expected to support education systems in reaching their unachieved targets (defined through reforms and policies). It is evident, this highly virtual world will see a greater impact of digital education in the upcoming years.
Before we wrap up let us take a quick look at some factual information that supports this conclusion:
Overall- The eLearning market is projected to hike from USD 190 billion in 2018 to USD 300 billion by 2025.
Organizations- The North America eLearning market account for almost 40% of the industry share due to the growing adoption of technology in organizations.
Academic Sector- Contributed 50% of the global industry share (back in 2018).
Ending Thoughts
The promise of digital education is to customize the student's learning more than a regular classroom. And the booming trend of online learning is all set to make bigger inroads with its unprecedented advantages. In the years to come, this format will make education more meaningful, beneficial, and convenient for students and professionals across the world.
Thanks for Reading